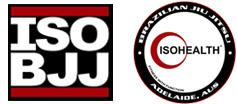 Flexibility can be a confusing subject. Here in this article Matt Jones runs through explanations and descriptions of some of the key stretches he advocates for both health and performance



Defence against Multiple Opponents
Matt Jones appeared in Blitz Instructor's Special Collectors Edition to provide some valuable information on multiple opponent strategies



If you want a workout that will get you strong and fit but doesn't require lots of expensive equipment then look no further. Power Up Your Punch has everything from Tyre Flipping to Sandbag Throwing!



The humble punching bag is a great piece of gear but it can be used for much more than just taking a hit. Read on to find out how you can perform a very effective whole body workout with your humble punching bag



ISOHEALTH's Matt Jones reviews some training equipment for Blitz Magazine. Kettlebells, Powerball and Stretch Cords/Bands


.
Grip strength exercises using simple equipment which is available is most gyms, can be made at home or bought cheaply.


Training at Jeet Kune Unlimited MMA
This article gives insight into a training session at Burton Richardson's JKD Unlimited High Performance Mixed Martial Arts in Hawaii. If you want to get an idea of what you could expect from training with Burton at JKDU then take a glimpse.


The Absolute Best Interval Timer
Interval training usually requires some sort of precision timing device, read on to find out how to make the best timer ever (and the best part is you can do it yourself)!


How to Get Started in CST and Clubbells
In response to a question we were sent, I have developed this article on how to get started with CST and Clubbells, what they are, who should use them and why.



Matt Jones ventures from Adelaide Australia to Los Angeles California to train 1-on-1 with Jim Wagner, founder of Reality-Based Personal Protection (RBPP). Pepper Spray, pellet guns and a dungeon like gym are all part of the fun!