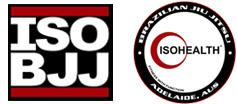 What is ISOHEALTH Self-Defence?
What can I expect to learn the from ISOHEALTH Self Defence system?
How can I learn the ISOHEALTH Self Defence system?

At ISOHEALTH our Self Defence instruction focuses on three key elements:
Providing safe, effective and realistic self defence training
Ensuring that self defence training is conducted in a safe, fun and enjoyable manner
Delivering training with a focus on awareness and smart decision making as the first line of defence

We believe it is important to understand all elements of the fight including having the knowledge and skills required to contend with any pre-conflict, conflict and post-conflict situation. We incorporate techniques from:
MMA-Standup to enhance your ability to fight whilst on your feet
Brazilian Jiu-Jitsu (BJJ) to improve your survivability should you need to fight and escape whilst in the clinch or on the ground
Improvised and edged weapon defence to improve your ability to deal with edged and impact weapons.

Our Head Coach Matt Jones has earned instructor rank in both Jim Wagner's Reality-Based Personal Protection (RBPP) System (previously Australian Director for RBPP from 2004-2009) and also in Floro Fighting Systems (FFS Edged Weapons) thus providing him with a strong knowledge of weapons systems both offensively and defensively.
What can I expect to learn the from ISOHEALTH Self Defence system?
ISOHEALTH's Self Defence covers the following elements:
Pre-Conflict Training: Awareness, prevention and tactics for dealing with the crucial moments just before an attack;
Conflict Training: This is the part most people think of when they think of self-defence, this is the physical portion of conflict;
Post-Conflict Training: This is the part of personal safety where we discuss, train and practice critical considerations for the moment after an aggressive encounter;
Scenarios, micro scenarios, sparring and other aspects that are a core part of reality-based self defence;
Physical methods for unarmed and armed attacks (including attacks with common object like bottles and glasses);
How to defend yourself standing, seated, on the ground and in confined spaces; and,
Tactics for coping with multiple attackers from standing and ground positions.
How can I learn the ISOHEALTH Self Defence system?

Our system is delivered in the following formats:
As part of our BJJ and MMA Striking classes to ensure that all ISOHEALTH students gain proficiency and understanding of the realities of self defence
Private Lessons (and small group training)
Workshop and Seminar formats
For more information on ISOHEALTH's Self Defence system and/or workshops/seminars, please contact us on 0400 313 204 or via email.