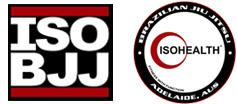 Check out the ISOHEALTH Timetable for the Kids BJJ Classes

Children deserve the best possible start they can get which is why ISOHEALTH put a lot of work and research into providing a well-rounded Kids Brazilian Jiu-Jitsu (BJJ) program for your child!

Suitable for ages 7-14, ISOHEALTH's Head Coach Matt Jones takes his knowledge of rehabilitation and Post-Graduate University studies in Sports Coaching to ensure we keep on top of the latest developments in pediatric sport science. This means that we provide the best possible learning environment and developmental considerations for your children while teaching them self defence and Brazilian Jiu-Jitsu technique.

BJJ is the ultimate art for children to learn as it places emphasis on gaining control over one's adversary without reliance upon punches and kicks. Although BJJ is often referred to as the gentle art, it is arguably one of the most effective martial arts for self defence on the planet! BJJ will enable your child to gain the confidence they need to protect themselves in the school yard without resorting to striking their peers.

Kids BJJ is not only great for self defence for your child, but also can benefit your child by:
improving their fitness;
increasing their self-esteem and confidence;
building discipline and persistence; and
developing healthy social skills and respect for others.
Class Times
Saturday mornings, 9am – 10am, & Wednesday afternoons, 4:30pm – 5:30pm.

Pricing
We have two options for attending the Kids BJJ Classes:
Our Kids Membership for $20 per week – great for those whose children want to attend both classes on a consistent basis;
Alternatively if your child can only make one class per week or is unable to come every week, we recommend taking advantage of the kids casual rate of $15 per session

If this sounds like the perfect training environment for your child, contact us on [email protected] to get your child started today.