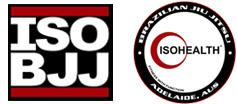 Brazilian Jiu-Jitsu (BJJ), Mixed Martial Arts (MMA), Self Defence
Strength & Conditioning (S&C)
Welcome to ISOHEALTH!
We are an Adelaide BJJ, MMA and Personal Training facility based in Torrensville, just minutes from the Adelaide CBD and Adelaide airport.

We are a full-time training facility offering Brazilian Jiu-Jitsu (BJJ), Kids BJJ, Mixed Martial Arts (MMA), Self Defence and Strength & Conditioning (S&C). We deliver classes 6 days per week and private/personal training 7 days per week.  Our team is home to everyone from elite athletes to folks who simply enjoy an exciting way to improve their safety and fitness!
Is your goal to improve your fitness and health? Do you want to learn an effective approach to self defence?  Perhaps you want to get into the competitive side of BJJ or MMA?  At ISOHEALTH you can train alongside BJJ champions and MMA Submission/Fight of the Night winners, you may even become one yourself! The one common thread that all of our members share is being the best they can be for their particular lifestyle while also helping their training partners achieve their specific goals!  Whether you are on the mat or in the weights room you'll find the supportive team environment, the great facility and the high standard of coaching make ISOHEALTH a great place to be a part of!