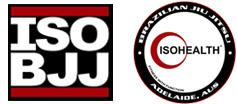 ISOHEALTH is a fully-equipped, modern BJJ & MMA training facility located in Torrensville, South Australia
Only 5 minutes from the Adelaide CBD and Adelaide Airport;
Fully air-conditioned training space;
Off-street carparking;
Over 160 square metres of seamless, international grade wrestling mats – fast for striking, cushioned for grappling and takedowns, as safe as possible for all of your training needs;
5.5 metre competition grade MMA Cage;
13 metre padded wall for MMA and self-defence;
Fully-equipped strength and conditioning gym to assist you in achieving your physical goals;
Professional round timer clock for monitoring rounds and intervals;
Thai pads, focus mits, kick shields, training dummies, training weapons (knives, Blue Guns, Smak-Stiks) and more;
Large range of reality-based training equipment including marking knives, padded batons and eye/chest/forearm protection;
Modern restroom and shower facilities;
Member and visitor seating area;
Fully-stocked drinks fridge with a range of drinks available for purchase.
We place the highest priority on providing a safe training environment therefore our mat space is cleaned and disinfected on a daily basis, always ensuring a hygienic surface on which to train.
ISOHEALTH also has a dedicated Pro-Shop for all of your training needs. Our range includes:
Da Firma Kimono Company (DFKC) gis, rashguards & competition shorts;
Fighting Fit & Ace Gis;
True Protein range of Whey Protein Powders;
And much more.
page contents