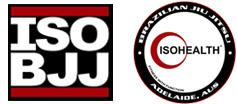 aka:
Nae, Nato

Areas of Focus:
BJJ, MMA-Standup & Private Lessons (Striking, BJJ & Self Defence).

Why do you love to train at ISOHEALTH?
I love to train at ISOHEALTH because of the positive and supportive learning environment. Everyone on the mat is interested in both their own development and the development of their training partners. It seems to be innately understood that these two things form a symbiance. There's no ego just good, fun training.

Favourite technique:
My favourite technique is the kimura, that grip always leads somewhere good. I also like delivering a solid body shot and doing deadlifts! I just like training.

Why did you start training at ISO?
I started training at ISOHEALTH in 2006 to develop well rounded fitness and fighting skills. I had already done a little bit of training in stand up fighting but after training once with Matt I quickly realised that I was only covering one range. Matt had (and has) an awesome clinch game and outstanding grappling. I wanted to be like that.

Nae is the Striking Coach for the MMA/Stand Up classes on Tuesday & Thursday nights and takes the Kids BJJ and Open Mat session on Saturday Mornings.
He is also available for private lessons in BJJ, striking, self defence and strength & conditioning.
ISOHEALTH Brazilian Jiu-Jitsu Brown Belt

Cert IV in Personal Training

Australian Strength & Conditioning Association (ASCA) Level 1 Coach

2013

South Australian State Championship Silver Medalist – Senior 1 Purple (Gi & NoGi)
South Australian State Championship Silver Medalist – Senior 1 Purple Open Weight (No Gi)
South Australian State Championship Bronze Medalist – Senior 1 Purple Open Weight (Gi)

2012

South Australian State Championships Silver Medalist – Masters Blue (NoGi)
South Australian State Championships Bronze Medallist – Masters & Adult Blue (Gi)
South Australian Open Silver Medallist – Adult Blue (Gi)

2011

Pan Pacific Championships Silver Medalist – Blue Masters Under 85kg (Gi)
South Australian State Championships Silver Medalist – Masters Blue (Gi)
South Australian Open Bronze Medallist – Masters Blue Open Weight (Gi)

2010

South Australian State Championships Gold Medallist – Masters Blue Open Weight (NoGi)
South Australian State Championships Silver Medallist – Masters Blue Open Weight (Gi)
South Australian State Championships Bronze Medallist – Adult Blue (Gi)
South Australian Open Gold Medallist – Masters Blue (Gi & NoGi)
South Australian Open Silver Medallist – Masters Blue Open Weight (Gi & NoGi)